Rod Bar Shot Blasting Machine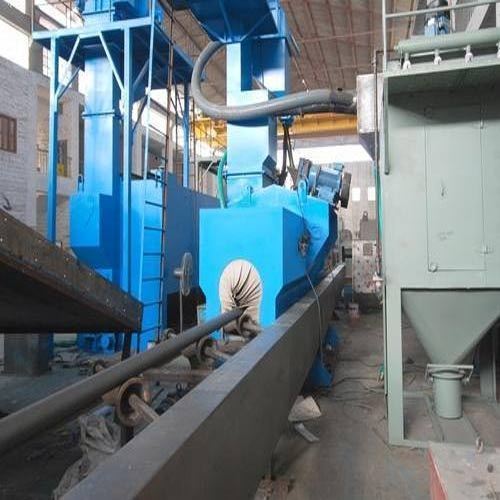 Rod Bar Shot Blasting Machine
Price And Quantity
Product Specifications
Product Description
The main advantages of Rod Bar Shot Blasting Machine is its brighter finish as well as uniform cleaning. It ensures improved productivity and saves labor. Its operation needs minimal space as well as small capital. The machine is highly effective for the thorough cleaning, polishing and strengthening of metal. Rod Bar Shot Blasting Machine is suited for every industry that makes use of metal. The industries that make use of the Rod Bar Shot Blasting Machine are automotive, construction, aerospace, shipbuilding, foundry etc. This offering is specially used for the places, used where big parts as well as large areas of parts have to be deburred, descaled, cleaned and desanded.

Product details

| | |
| --- | --- |
| Dust Collector Capacity (CFM) | 1200 |
| Total Power required (HP) | 10 |
| Shot Flow Rate (Ton/Wheel/Hour) | 8.5 |
| Load Carrying Capacity of Hanger (Kg) | 450 |
In Blast Cleaning Technology , BAR SHOT BLASTING MACHINE is the only substitute of Acid Pickling . The Machines are either Skew Roller Conveyor Type in case of BAR ROUND IN SHAPE or Roller Conveyor Type , if the Bars are Rectangle / Hexagonal / Octagonal or Round in Shape .


| | |
| --- | --- |
| Point | Information |
| Minimum Order Quantity | Any Quantity is acceptable |
| Price Or Price Range | Rs.50,000/- to Rs.5,00,000,00/- |
| Uses | Railways And its suppliers ,Foundries , Automobile , Ship Yard & any Metal Base Industries for Surface Treatment & preparation |
| Material | MS & Alloy steel |
| Delivery Time | Immediate to 16-18 Weeks depends on Size of Equipment |
| Sample Available [Yes/No] | Yes |
| Sample Policy | If anybody want to observe sample , he or she has to visit our Factory at Jodhpur, |
| Main Export Market(s) | South East Asia , Bangladesh & European Countries. |
| Main Domestic Market | West Bengal , Orissa , Assam , Jharkhand , Chhattisgarh , UP , MP , Haryana , Punjab , Mumbai, Pune , Goa, Karnataka , Tamilnadu , Andhra , Telegana & Kerala . |
| Other Points -You want to Highlight | We are supplying most modern , innovative & economic machines to all most all related Public & Big Private Sectors with effective after Sales & Services. |
Product details
| | |
| --- | --- |
| Dust Collector Capacity (CFM) | 1200 |
| Total Power required (HP) | 10 |
| Shot Flow Rate (Ton/Wheel/Hour) | 8.5 |
| Load Carrying Capacity of Hanger (Kg) | 450 |